Grijalva Introduces Bipartisan Bill to Repeal Giveaway of Sacred Arizona Native American Land to Multinational Mining Conglomerates
Washington, D.C. – Ranking Member Raúl M. Grijalva today introduced the "Save Oak Flat Act," which repeals a recent congressional giveaway of sacred Native American land to a company called Resolution Copper co-owned by multinational mining conglomerates Rio Tinto and BHP Billiton.
"Save Oak Flat Act" will Reverse Backroom Deal that Threatens Apache Religion and Sacred Areas
On Wednesday, June 17, 2015, Rep. Raul Grijalva with 14 bipartisan co-sponsors introduced the "Save Oak Flat Act". The bill would repeal Section 3003 of the FY15 National Defense Authorization Act (NDAA), which approved the Southeast Arizona Land Exchange ("the Land Exchange").
Chairman Terry Rambler praised the bill's introduction. Rambler stated, "I applaud Congressman Grijalva and the co-sponsors of the Save Oak Flat Act. They are true champions of Indian Country and justice for the American taxpayer. The Save Oak Flat Act directly responds to the deception that was used to approve the Land Exchange through an eleventh hour rider. That process directly ignored the will of the people and exemplifies everything wrong with Congress." View original article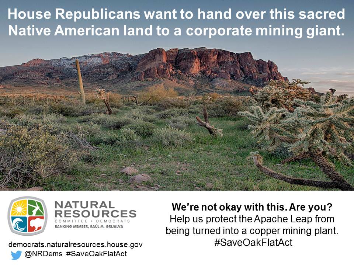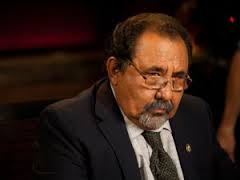 Arizona Rep. Raul Grijalva