Once Again, The Fight for Religious Freedom in America Begins
The Southeast Arizona land exchange was one of the bills that was attached to the National Defense Authorization Act and passed by the U.S. House and the Senate. It is a bill pushed by Arizona Representatives Gosar & Kirkpatrick and Arizona Senators McCain and Flake (and prior to Flake, Kyle) which for over the past 10 years has not been able to get enough votes for passage in either the House or the Senate. The Arizona Congressmen could not get the bill to pass using the normal Congressional procedures. This is because the bill gives land at Apache Leap and Oak flat in southeastern Arizona to a foreign Mining Company, Resolution Copper without any environmental impact studies or without consultation with San Carlos Apache and Tribes that consider the area sacred. The last time the bill came up for vote in the House of Representatives it was shut down by New Mexico Representative Lujan who proposed an amendment to the bill that required that Native American concerns regarding Sacred Sites be addressed.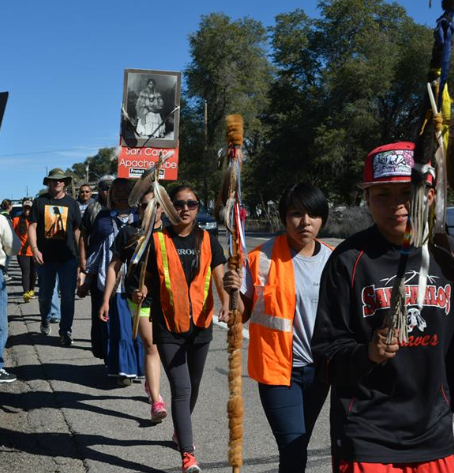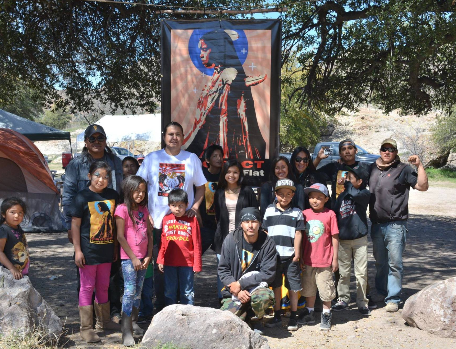 Because Gosar and Kirkpatrick did not want that amendment added to the bill, the vote was delayed and never moved forward . If the Bill was to go to a vote again the the House of Representatives, the Lujan sacred sites amendment could have been added which meant that the sacred site issue would keep the exchange from taking place so it never came up for a vote in the house again. Until it was added to a land package and when introduced on the floor touted the rule that the entire National Defense Authorization Act could not be torn apart and all riders added would go as a package. Now this bill has been snuck in a land package that has been added to the National Defense authorization Act that must be signed by Obama to fund the U.S. Military. The San Carlos Apache tribe has worked tirelessly to avoid this from happening. The discussions of the land package in the House and the Senate did not cover the bills history, all it covered was "jobs". The scariest part of the presentation in the U. S. Senate of the land package was the discussion regarding all the land in the Western United States. A map showed that the States in the West had enormous pieces of property what is U. S. Trust Property this includes all reservations in the West and all land that is held by the federal government including numerous Sacred Sites, including Oak flat.